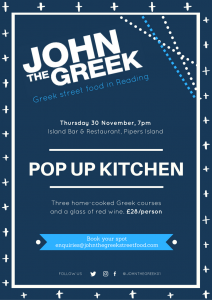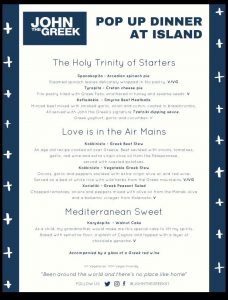 We love to cook Street Food for our customers, and once every so often, we pop into a restaurant and into a real kitchen and then a different kind of magic happens.
Working in a kitchen is hard work. kitchen tables were being cleared, ingredients and Extra Virgin Olive Oil bottles being shuffled into place. Pots, pans, fryers, steamers on, plates and bowls laid out and production for all our 'Pop-Up' guests begun.
The night proved a success but was surpassed only by the delicious imported Greek Red wine; "Allegro" by Grampsas, that John The Greek brought to accompany his delicious beef Kokkinisto served on a bed of Lemon, Thyme and Oregano potatoes delicately cooked in his Extra Virgin Olive Oil. Just delicious..!
All customers at The Island Bar & Restaurant, Caversham Bridge, Reading are fed. A freshly baked cake is pulled out of the super dooper professional oven. Smells divine. Chocolate Ganache is being cooled as it is added on top. Dessert served.
John The Greek hates washing his dishes so doesn't do pop ups very often.
"Goodnight, Thank you & See you at the next one" He says.
Please follow and like us: